Enjoy this guest post by Dottie, of Dots on a Map, a travel blog for adventurous eaters:
This year, I was fortunate to visit Oaxaca for my second time. My first time was in 2017, and I was immediately charmed by the city's cobblestone streets, majestic cathedrals, and bustling marketplaces.
And the food! From complex mole sauces and succulent grilled meats to meat-stuffed tlayudas and crunchy cricket snacks, Oaxaca has a little something to please everyone. 
Thinking about taking a trip to Oaxaca yourself? Here are 15 things to do that offer a little bit of everything — culture, history, nature, and good eats:
1. Take a Free Walking Tour 
Walking tours are a great way to get your bearings in a new place. Seasoned local guides can teach you about a destination's culture and history, and you may even pick up a few friends to hang out with along the way.
Oaxaca has a few free walking tours you can choose from, including this one from Oaxaca Free Walking Tour which runs two tours a day at 10 AM and 4 PM. Free Tour Oaxaca runs a walking tour every morning at 10 AM. 
2. Eat All the Local Oaxacan Food
Mexico has one of the most exciting food cultures in the world, and Oaxaca is considered by some to be the "food capital" of Mexico. Many people travel to Oaxaca specifically to eat, and for good reason. The region is known for its diverse array of spices and ingredients as well as a unique spread of specialty dishes.
These traditional Oaxacan eats are a good place to start your foodie explorations:
Mole: A highly complex sauce made from fruits, nuts, chili, and chocolate. Oaxaca is known for having seven distinct moles that can contain up to 30 ingredients.
Crickets, or Chapulins: Crickets are a popular snack in Oaxaca that are quite crunchy and delicious once you get over the fear factor.
Tlayudas: "Oaxacan pizza" — a massive semi-dried corn tortilla topped with refried beans, Oaxacan cheese, and a protein.
Chocolate: Chocolate has been a staple of Oaxacan cuisine for thousands of years, and is commonly used to make drinks. Make sure to try an iced or hot chocolate when you are in town.
3. Hang Out & Shop at the Zocalo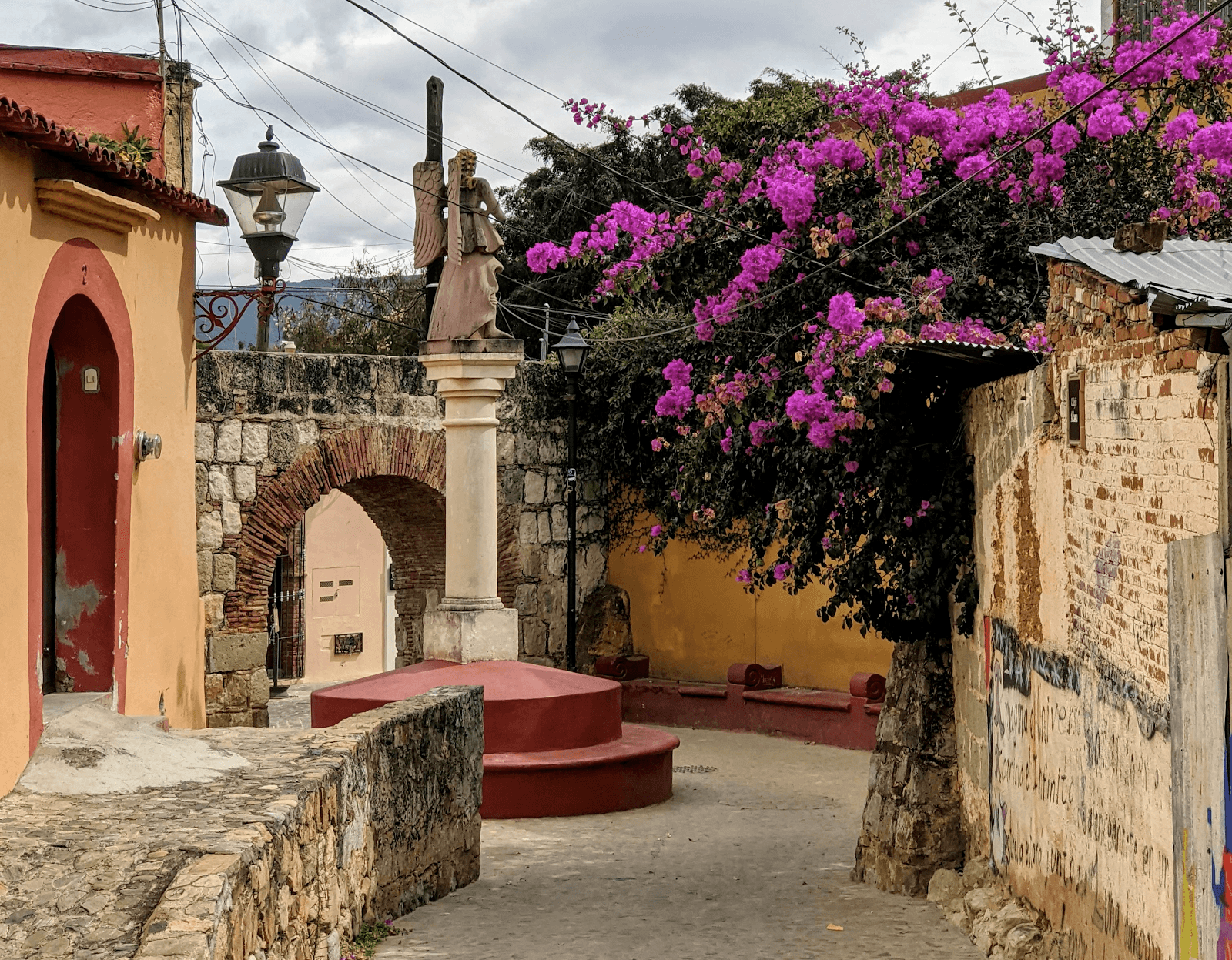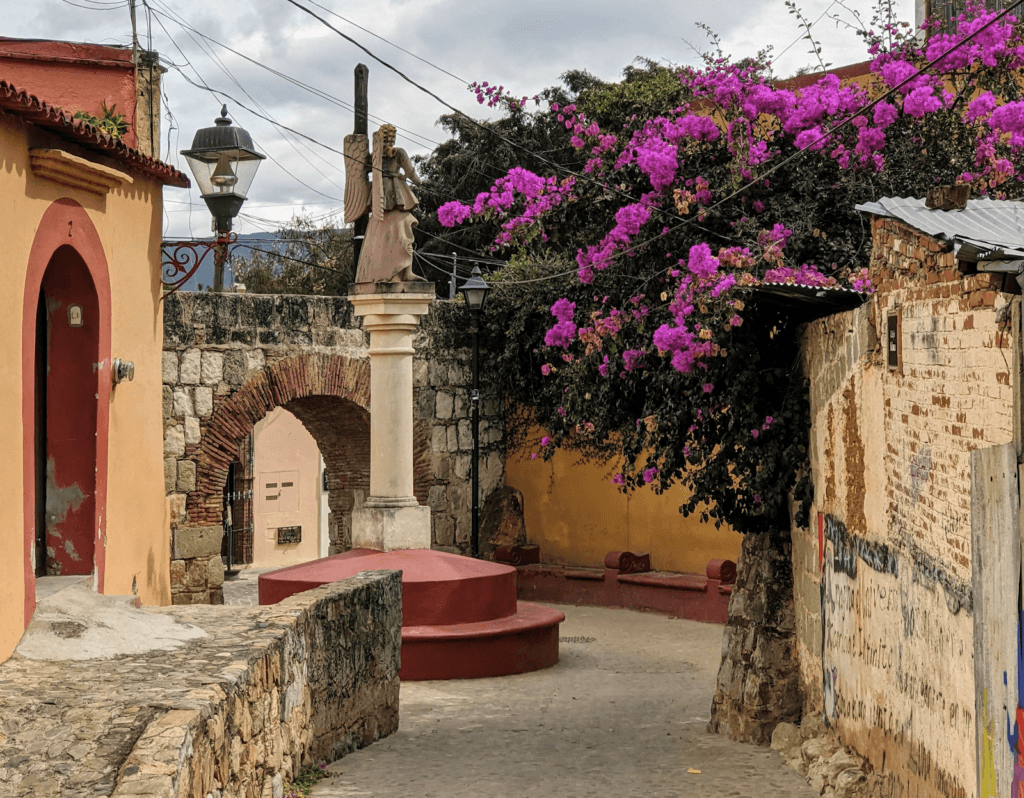 The bustling public square of Oaxaca is surrounded by restaurants, craft vendors, and historic buildings. You can easily spend a day shopping and strolling in the Zocalo, and a cold drink at one of the restaurants is perfect for people watching.
4. Visit the Sunday Market at Tlacolula
Tlacolula Market happens every Sunday in Tlacolula de Matamoros, a city 45 minutes away from Oaxaca's city center. It is one of the oldest continuous markets in Oaxaca and across Mesoamerica, and thousands of vendors, shoppers, and tourists flood in from neighboring cities and villages to engage in the bustling commerce.
Make sure to try the barbacoa, admire villagers in their indigeneous clothing, and eat everything in sight.
If you won't be spending a Sunday in Oaxaca, the Friday market in Ocotlan, located about an hour away from Oaxaca, is another option where you'll find black pottery, farming tools, leatherwork, and metalwork on top of standard market fare.
5. Drink Coffee
Oaxaca is one of Mexico's most important coffee-producing states, and there are numerous coffee shops all over the city. Here are a few to try:
6. Take a Street Art Tour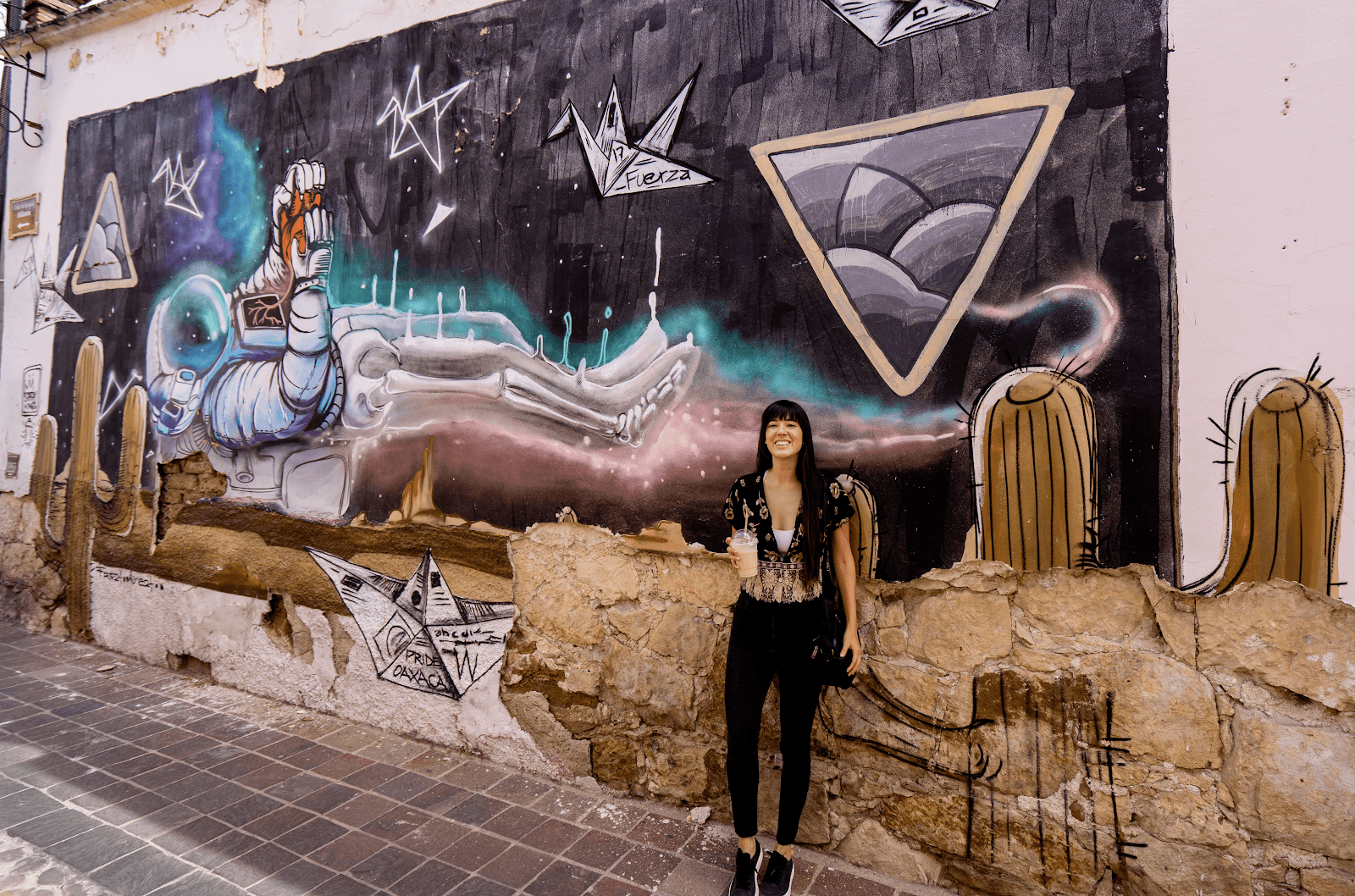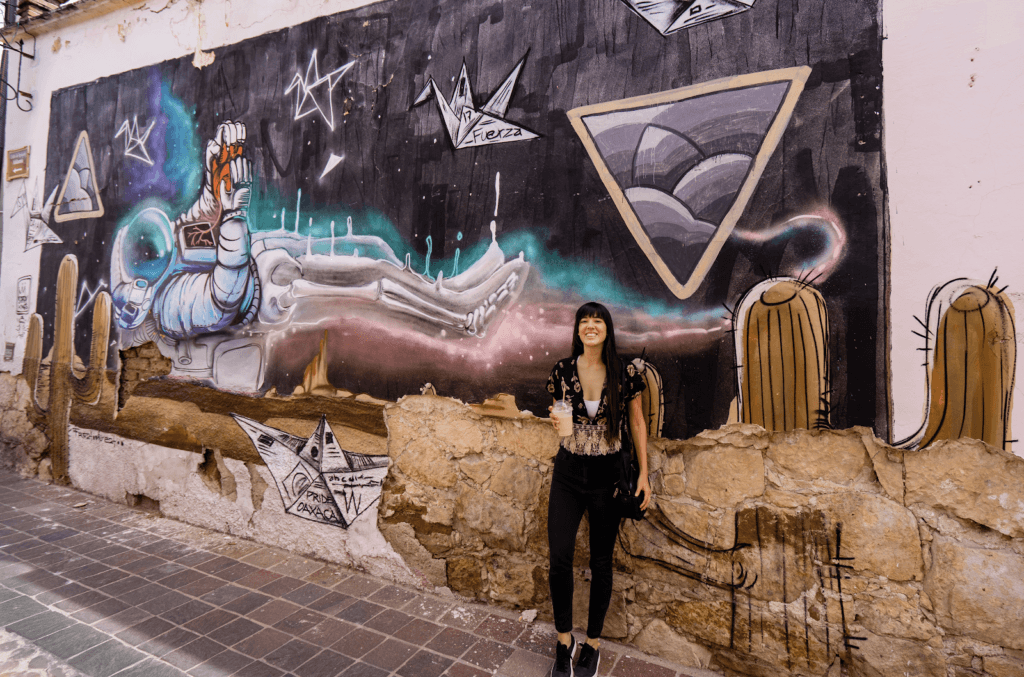 Oaxaca has many colorful street murals that are a must-see while in town. There are pieces all over the city, but you'll find a high concentration in the Jalatlaco neighborhood and near the Santo Domingo Church.
You can either explore on your own or take a guided tour like this one on Airbnb. 
7. Shop & Take in the Scene at Santo Domingo Church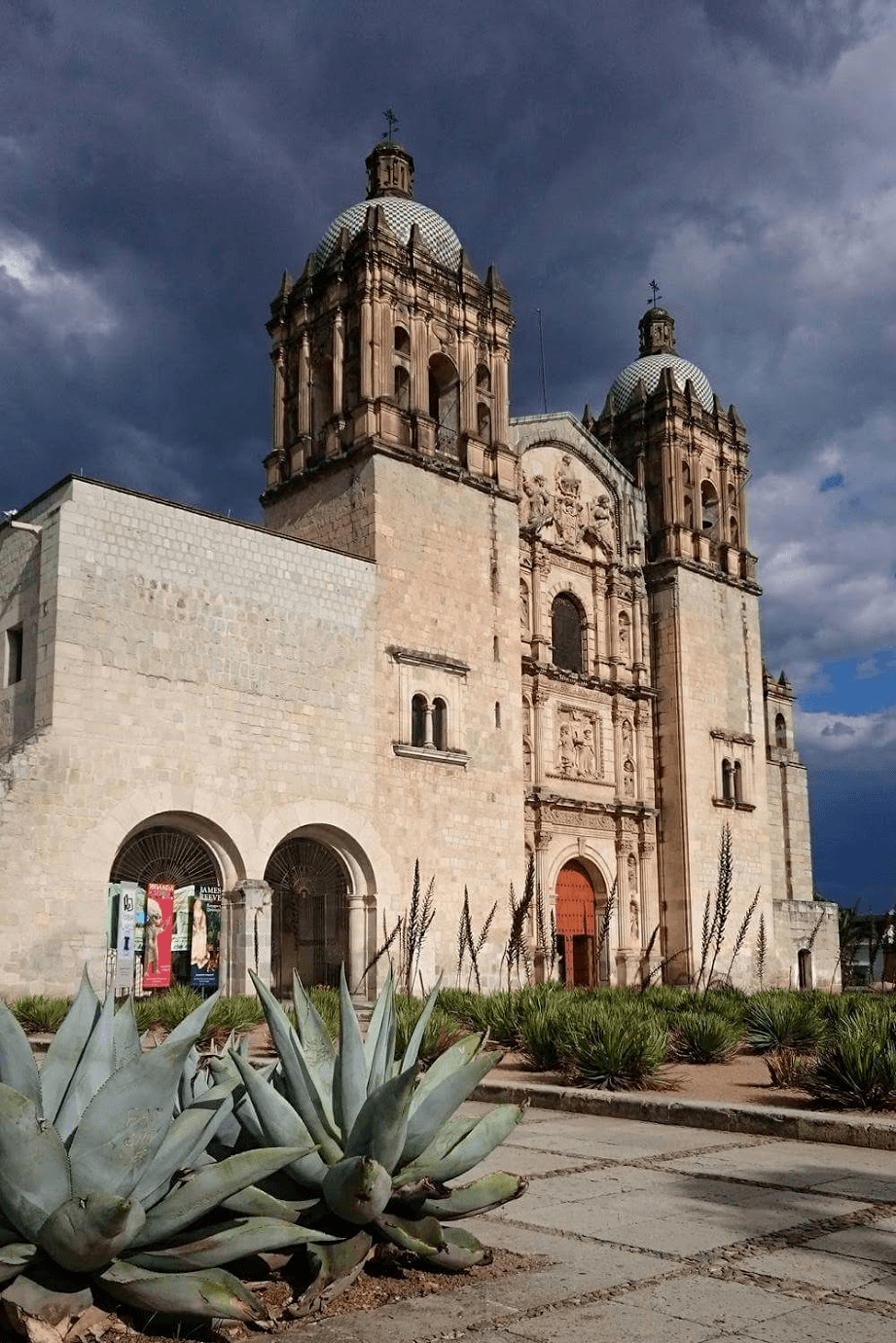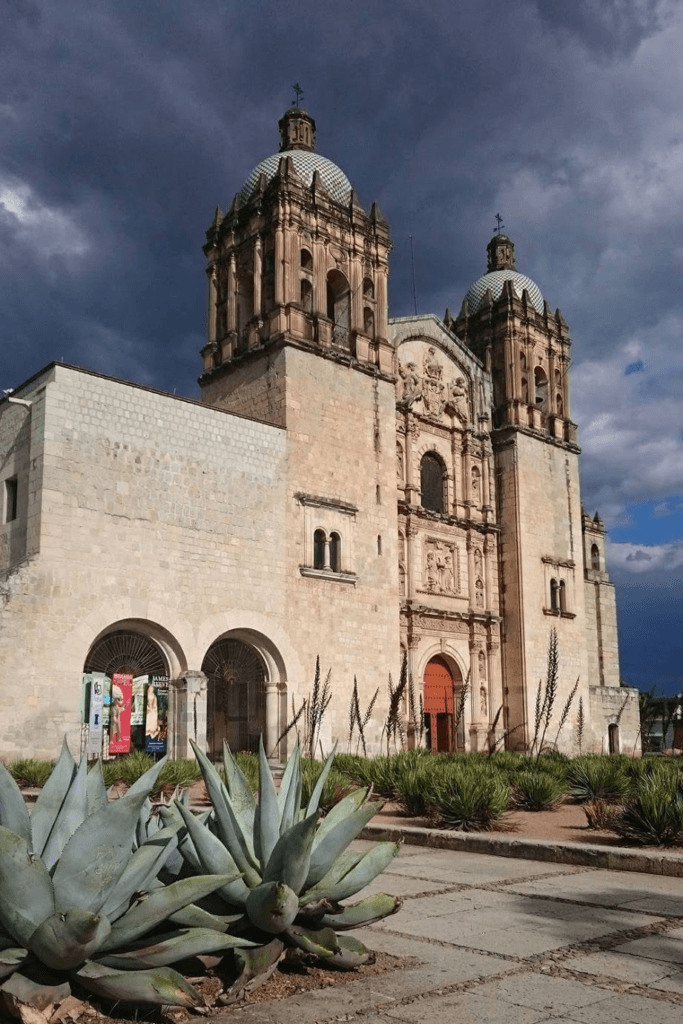 Santo Domingo is a 16th-century Baroque Catholic church surrounded by a beautiful public square. Each day, craft vendors, street stalls, tourists, and local families gather outside, creating a fun, energetic scene.
I love buying artisanal jewelry from local makers here — definitely check it out if you are looking for something unique to take home.
8. Visit a Museum
Oaxaca has many museums to choose from if you want to learn more about the art, history, and culture in the region:
The Santo Domingo Church museum provides a complete overview of Oaxacan history in the stunning convent overlooking the lovely botanical garden.
Museo de los Pintores offers a glimpse into local art being produced in Oaxaca.
Rufino Tamayo Museum showcases the impressive pre-Hispanic artifact collection of Mexican painter Rufino Tamayo.
Museo Textil exhibits traditional textiles of Oaxaca.
9. Get Your Carnivore on at the Carne Asada Hall in Mercado 20 Noviembre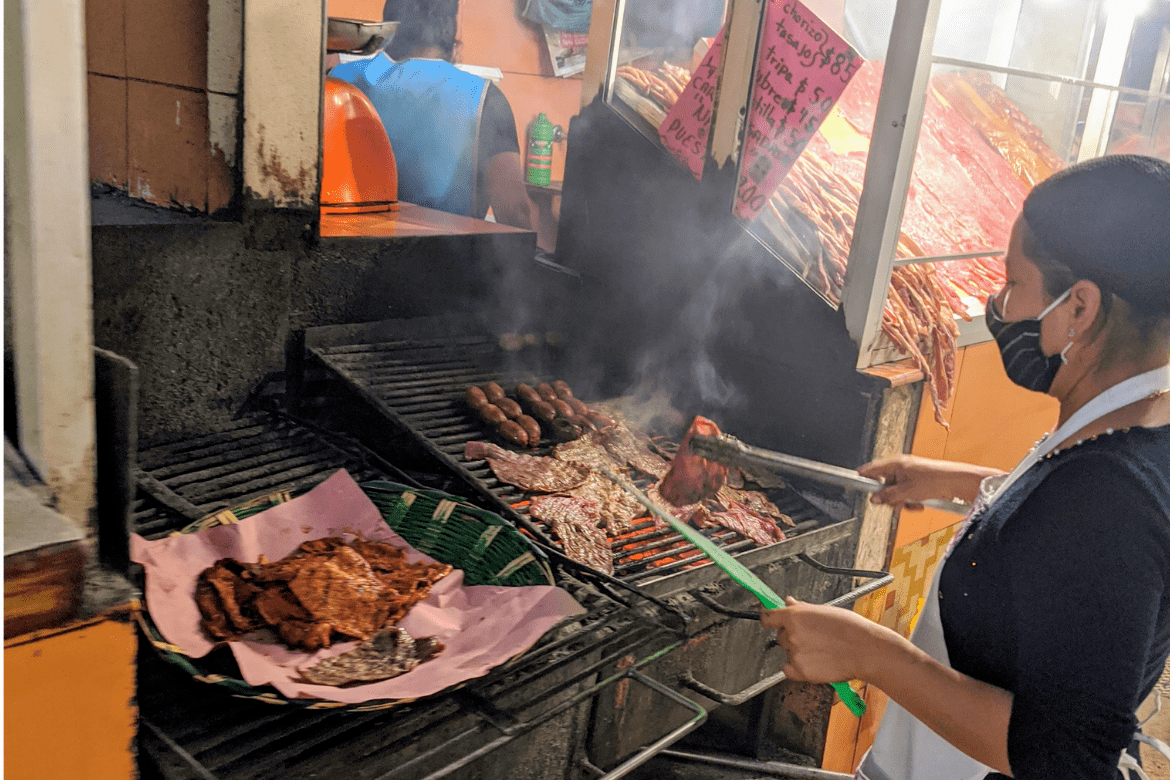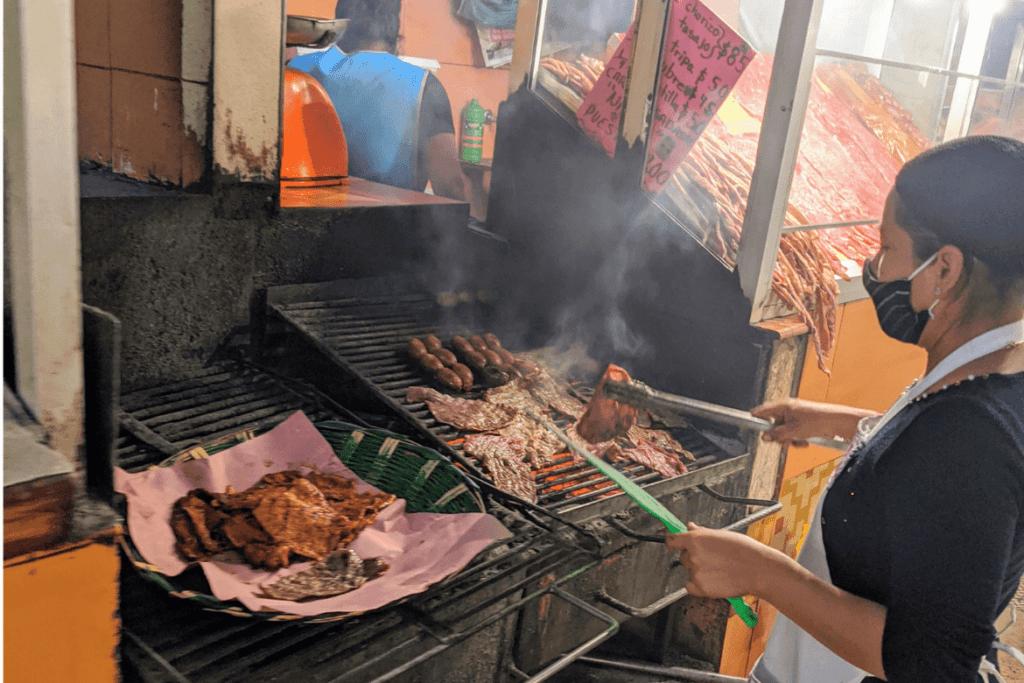 The Carne Asada Hall at Mercado 20 Noviembre is a hectic and wonderful place. It is an absolute must-do when you are in Oaxaca! Head into the smoky aisle, select the meat of your choice, and get it grilled on the spot. Accompany it with some spicy salsa and a handmade tortilla and you've got yourself a delicious meal. 
10. Enjoy Local Nightlife
A lot of good mezcal is made in and around Oaxaca, and there are an increasing number of nice mezcal bars in Oaxaca where you can enjoy a good night out. La Mezcalerita, Los Amantes Mezcalería, Mezcalería In Situ, and La Mezcaloteca are all good options. 
If you're looking to dance the night away, Txalaparta is the go-to place in town. For salsa dancing, try Bar La Tentación and Candela.
11. Explore the City's Markets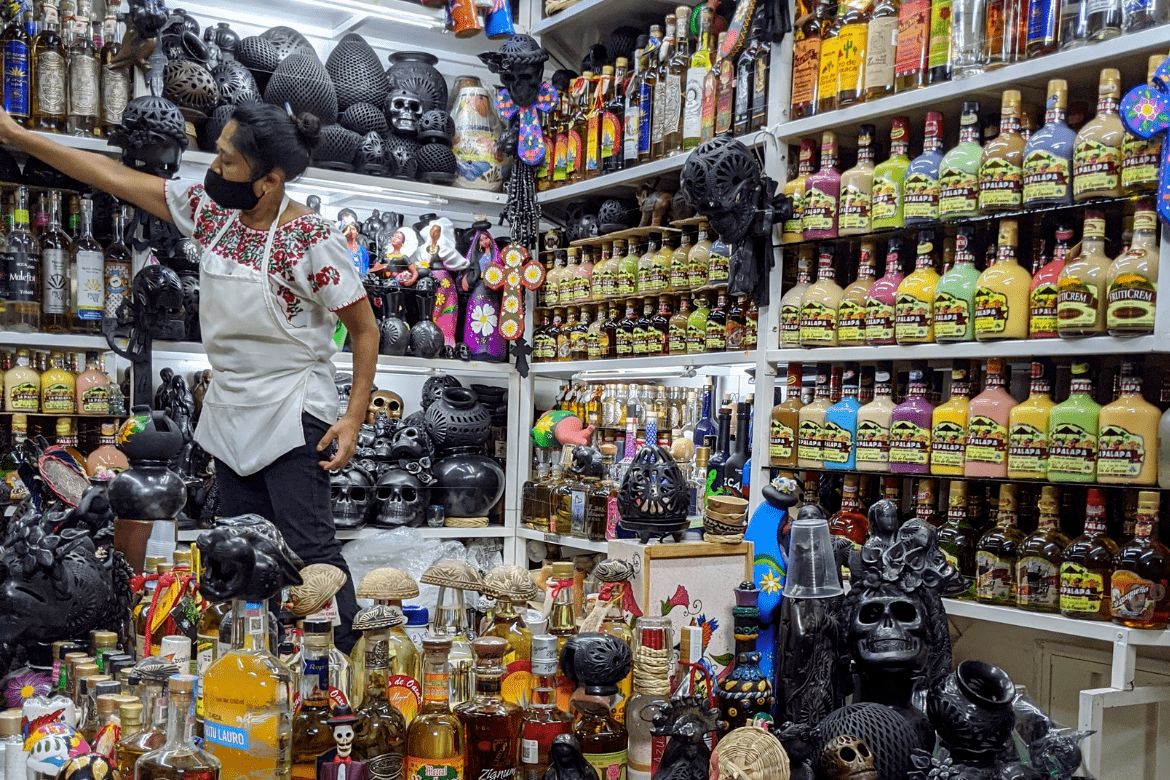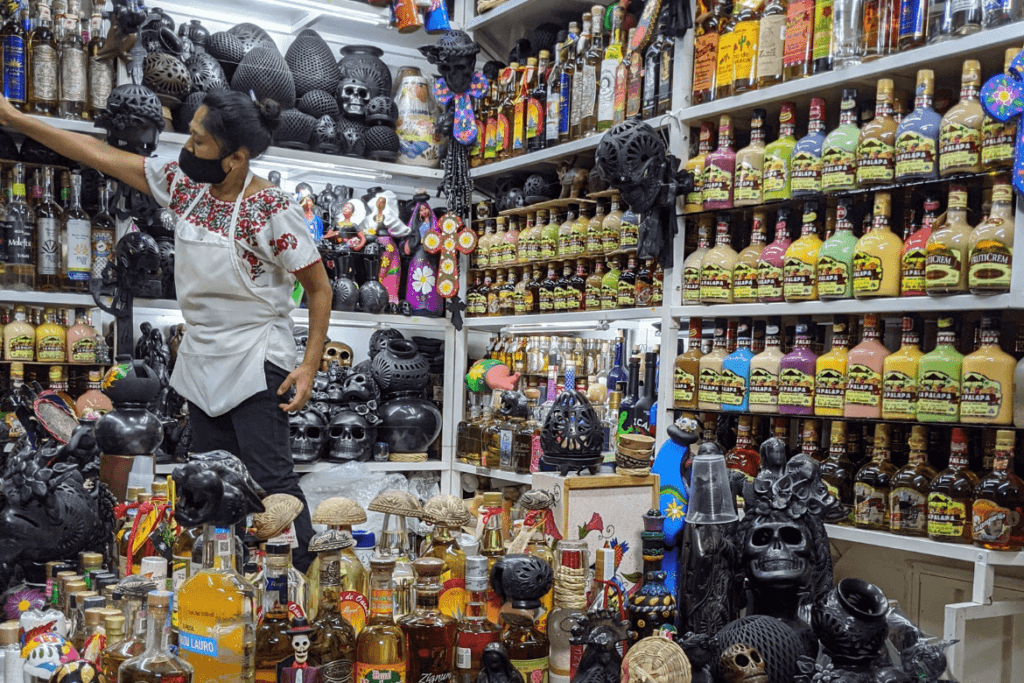 The heart and soul of Oaxaca's food and crafts scene can be found at local markets. 
Mercado 20 Noviembre and Mercado Benito Juarez are located right next to each other in Oaxaca's center. Mercado 20 Noviembre boasts the carne asada hall mentioned above and is a great place to sample Oaxacan mole. Mercado Benito Juarez is great for fresh groceries, craft souvenirs, and Oaxacan specialties like chocolate, coffee, and mezcal.
Mercado de Abastos is the largest market in town and sells everything you can possibly imagine. However, I'd recommend going only if you have someone who can show you around because it can be overwhelming otherwise. 
12. Try a Oaxacan Cooking Class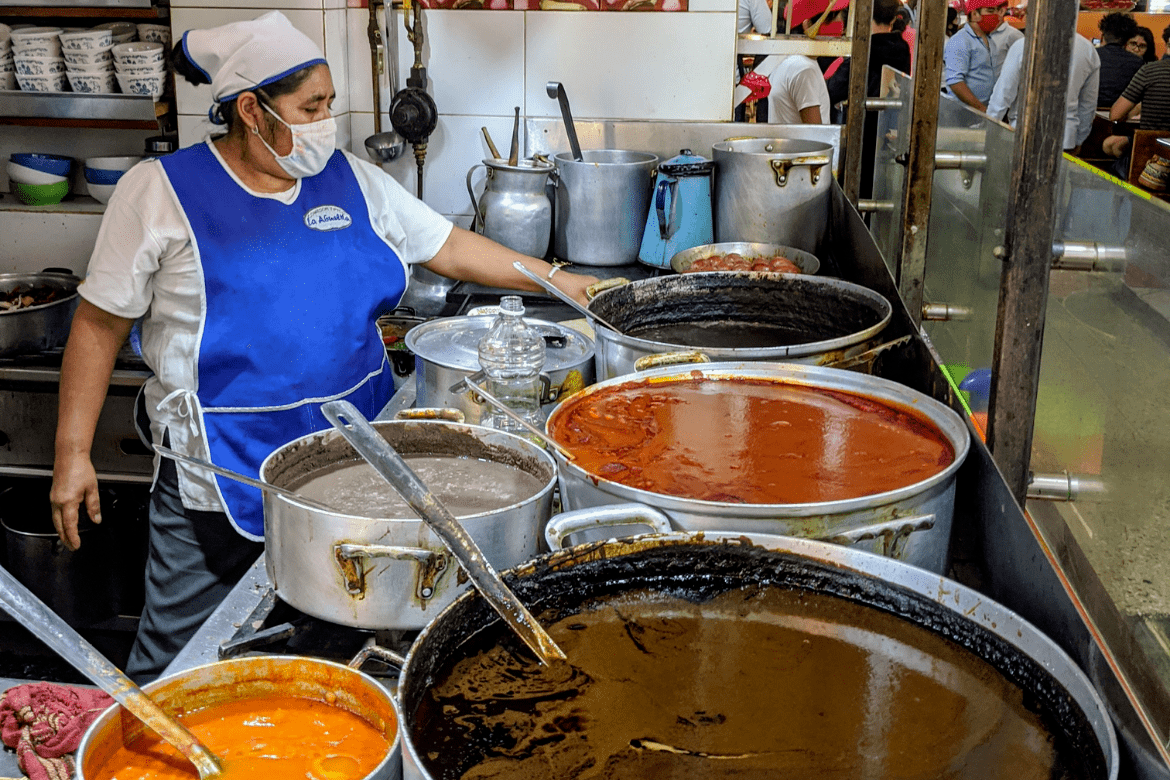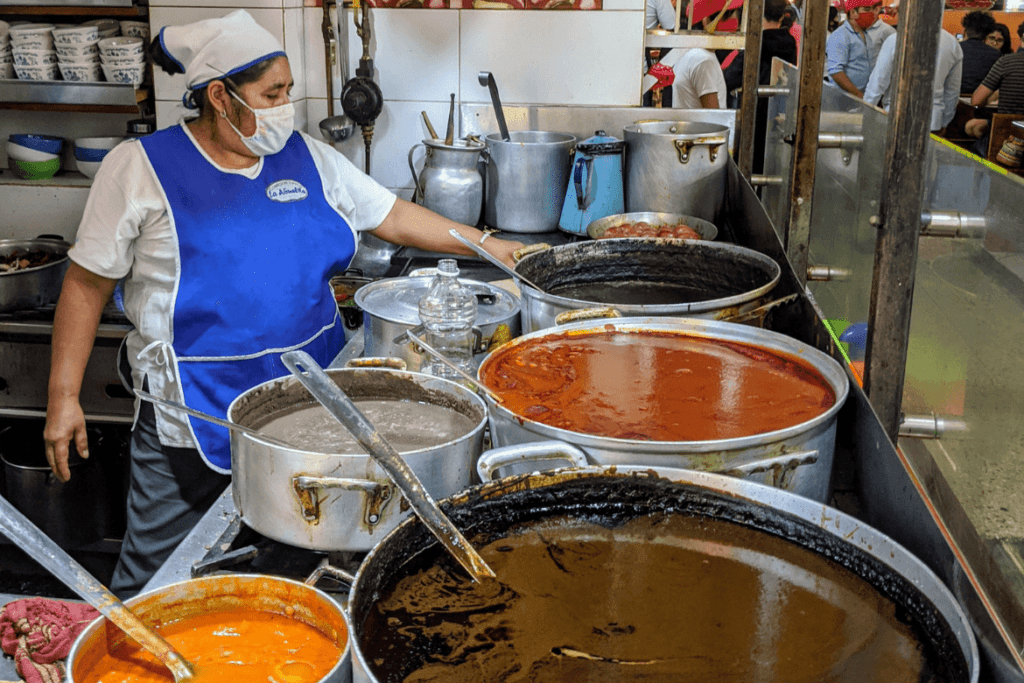 To bring the tastes of Oaxaca home with you, try a locally hosted cooking class. Many classes include a market tour of Mercado de Abastos, the largest market in Oaxaca that Anthony Bourdain visited on the Mexico episode of Parts Unknown. 
Seasons of My Heart offers highly-recommended cooking classes, and a search on Cookly surfaces many choices as well.
13. Go on a Mezcal Tour
Learn more about Oaxaca's most famous spirit by going on a mezcal tour to see how it is made in the field. These tours usually take you to the Tlacolula Valley, Ocotlan Valley, or the Sierra Sur. 
Mezcouting is a highly recommended tour provider, and Airbnb also has some highly-rated mezcal experiences. 
14. Explore the Monte Alban Ruins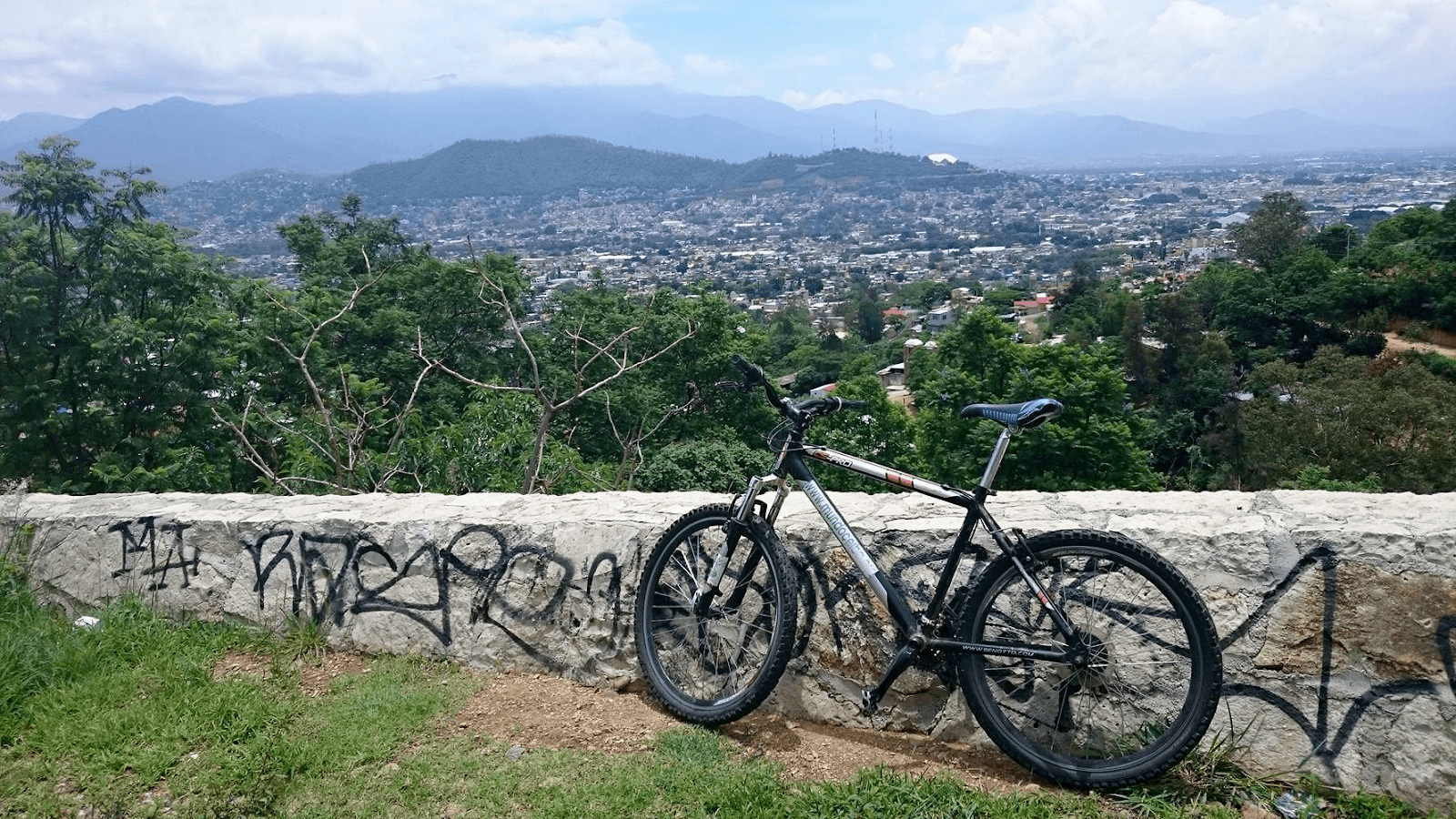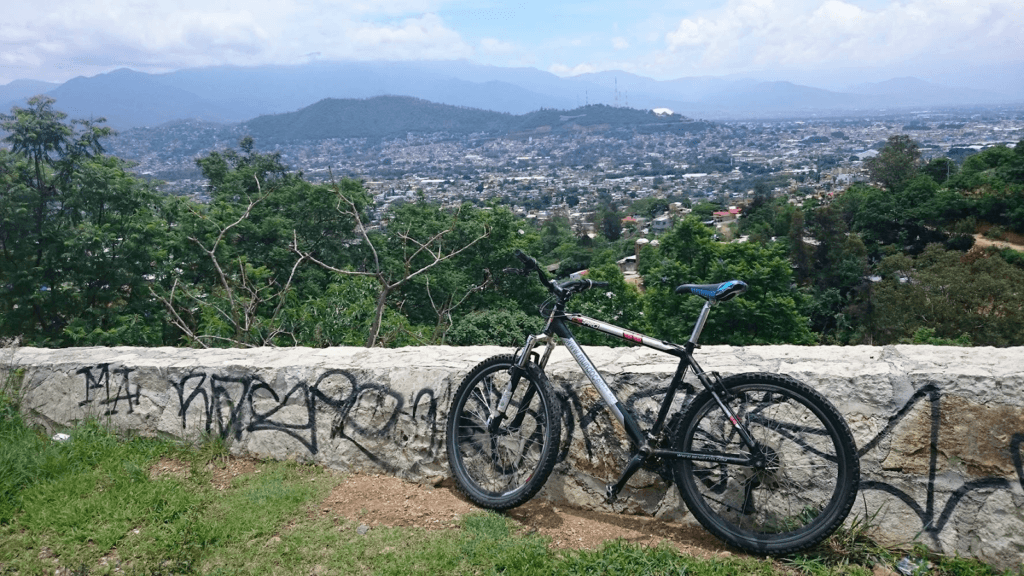 Monte Albán are ancient ruins of Oaxaca's Zapotec and Mixtec cultures that date back to the sixth century B.C. 
If you're up for it, I recommend renting a bike in town and riding up to the ruins rather than taking a taxi. It's a vigorous uphill ride, but you'll be rewarded with scenes of everyday Oaxacan life and sweeping views of the city below.
15. Take a Day Trip to Hierve El Agua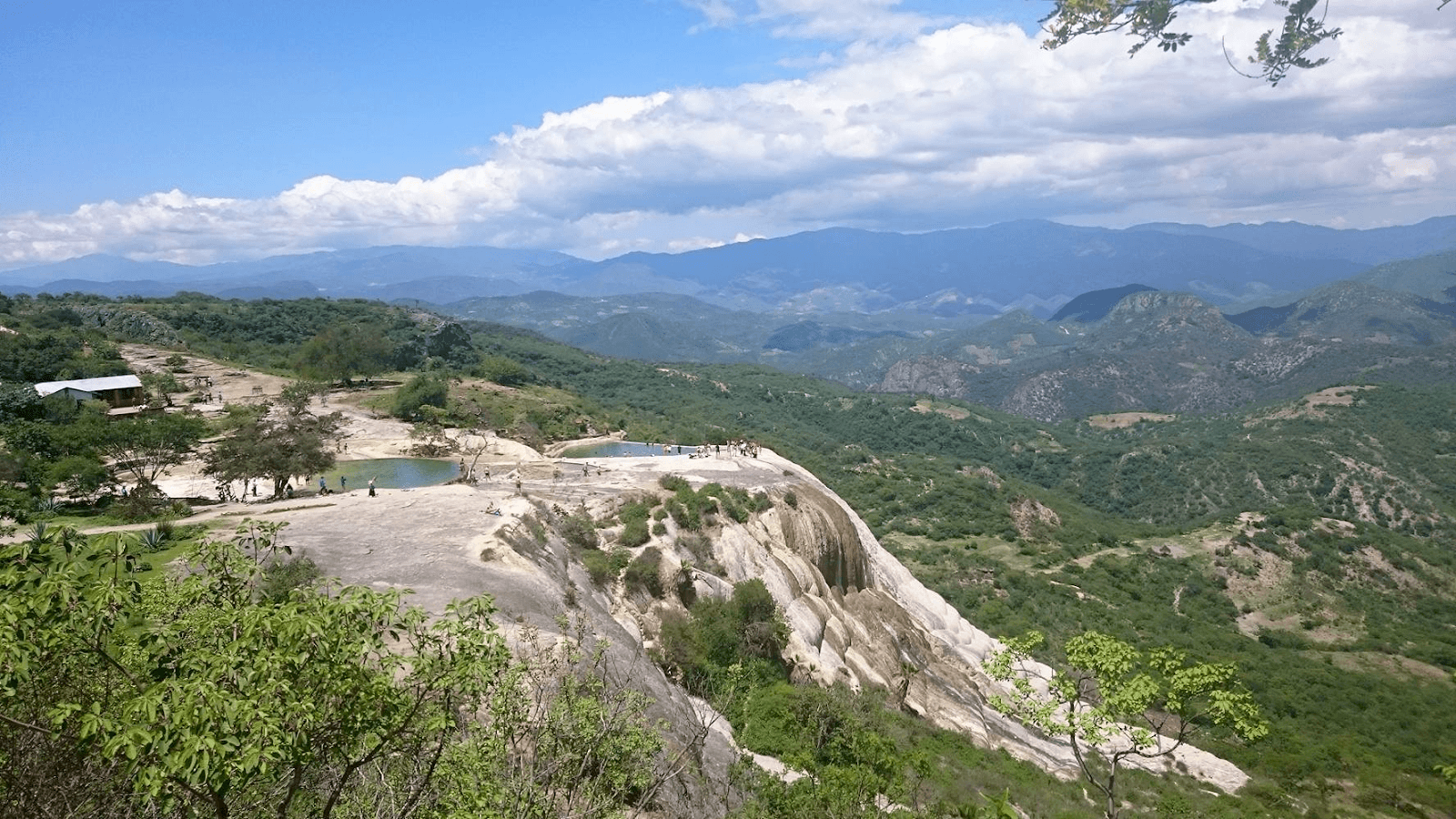 Hierve El Agua, located an-hour-and-a-half southwest of Oaxaca, are calcified waterfalls where you can take a dip and admire the stunning mountains in the distance. 
The easiest way to get to Hierve El Agua is by hiring a taxi. If you're on a budget, you can take a bus or colectivo from Oaxaca City to Mitla. From there, you transfer to a pick-up truck that takes you to your final destination.
Note: Hierve El Agua is currently closed due to COVID-19.
About the author: Dottie is the author of dotsonamap.net, a travel blog for adventurous eaters, and host of Dots on a Map Food on Youtube. She loves to explore new destinations as authentically as possible and discover new dishes around the globe. For local travel tips and musings about food culture & history, check out her blog Dots on a Map and Instagram.